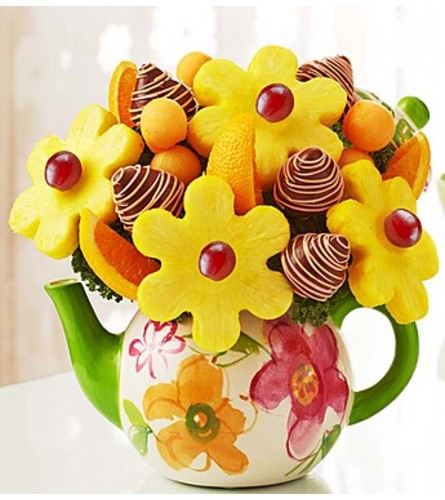 's Perfect Bouquet
Time for Tea™
---
Description
---
What better way to celebrate Mom than with a sweet tea party for two! This mouthwatering arrangement of strawberries, daisy-shaped pineapples, melon and more arrives in a charming, reusable keepsake teapot for a 2-in-1 gift that will brew up plenty of smiles for years to come. Add to your heartfelt wishes with a festive "Happy Mother's Day" balloon.
Fresh fruit arrangement includes strawberries (dipped in milk chocolaty confection with pink and orange drizzle or undipped); pineapple daisies with honeydew centers; orange wedges and cantaloupe ball skewers. Allergy Warning: Fruit Bouquets products may contain peanuts and/or tree nuts. We recommend that you take the necessary precautions based on any related allergies.
Product ID 143622C
Approximately 9.5"H x 7"D
What People Are Saying
---
Wonderful and pleasent people thanks
It was a birthday gift for my Aunt, she was so happy. Thank you!
Beautiful flowers and friendly, excellent customer service!
Reviews Sourced from Lovingly
You May Also Like
---