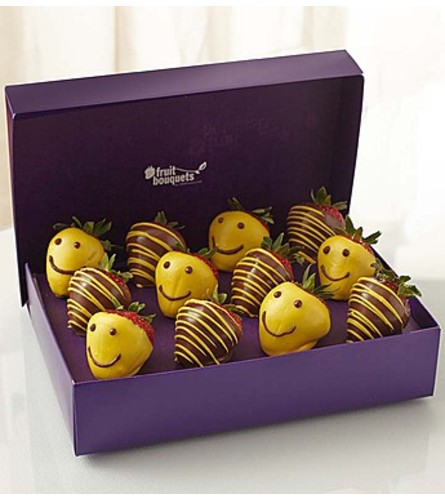 's Perfect Bouquet
Strawberry Smiles™
---
Description
---
What's the fastest way to make someone smile? You're looking at it! A dozen scrumptious, dipped strawberries flash festive grins to put the happy in someone's day—for a special celebration or no particular reason at all.
12 fresh strawberries; six dipped in milk chocolaty confection and drizzled with yellow-dyed confection, six dipped in yellow chocolaty confection and decorated with milk chocolaty confection to display smiley faces
Product ID 143624
Approximately
What People Are Saying
---
Danielle Hoyle
June 16, 2022
I ordered the Vibrant Floral Medley flower arrangement for my Mothers birthday. These flowers are beautiful and arranged as I saw online. My Mother was so happy it really brightened her day. I am definitely going to put this flower shop in my contact list for more orders and tell others about them. I love my Moms flowers thank You.
My Friend loved the beautiful flowers! They looked exactly like the picture!! Thank you!
She loved the doggie arrangement. It made her smile!
Reviews Sourced from Google and Lovingly
You May Also Like
---