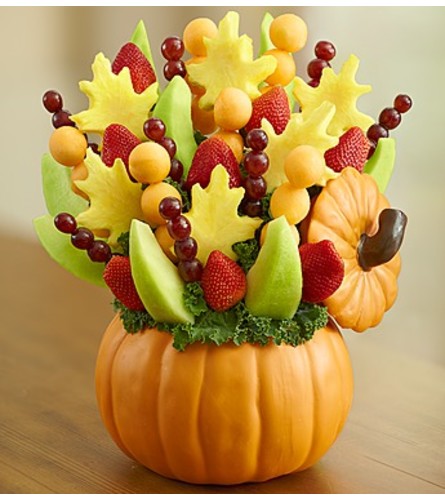 's Perfect Bouquet
Pick of the Patch™
---
Description
---
Say hello to our sweetest pick of the season! Set in a charming reusable ceramic pumpkin, this festive & fruitful arrangement of leaf-shaped pineapples, juicy strawberries, mouthwatering melon and more will be the talk of every holiday gathering and impromptu party.
Fresh fruit arrangement of leaf-shaped pineapples, strawberries, cantaloupe balls, honeydew wedges and grapes on a lettuce and kale base. Pineapple leaves also available dipped in chocolaty confections with white drizzle
Product ID 107963M
Approximately
What People Are Saying
---
Wonderful and pleasent people thanks
It was a birthday gift for my Aunt, she was so happy. Thank you!
Beautiful flowers and friendly, excellent customer service!
Reviews Sourced from Lovingly
You May Also Like
---