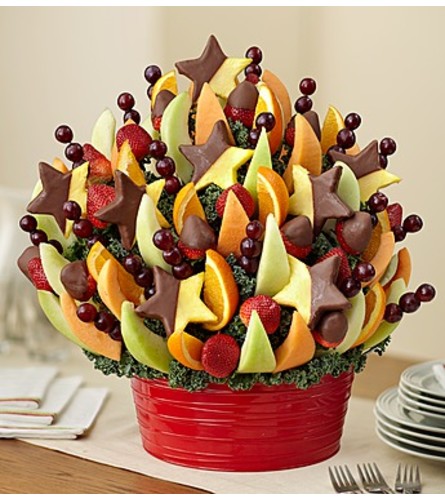 's Perfect Bouquet
Party Pleaser™
---
Description
---
It's party time—get everyone's mouth watering with this great big arrangement of fresh and tasty fruit! Displayed in a bright red reusable tin, our crowd-pleasing creation is loaded with dipped star-shaped pineapples, strawberries, melon and more sweet surprises to satisfy all those hungry guests. Fresh fruit arrangement of delicious dipped strawberries; dipped and half-dipped star-shaped pineapples; honeydew & cantaloupe wedges; orange wedges; strawberries and grapes skewers with a lettuce and kale base.
Allergy Warning: Fruit Bouquets products may contain peanuts and/or tree nuts. We recommend that you take the necessary precautions based on any related allergies.
Product ID 138120M
Approximately 16"H x 16"D
What People Are Saying
---
My gift was well received, service was quick and friendly Thank you so much
Ashley
September 22, 2021
Love it
Beautiful flowers, delivered on time and much appreciated!
Reviews Sourced from Lovingly
You May Also Like
---