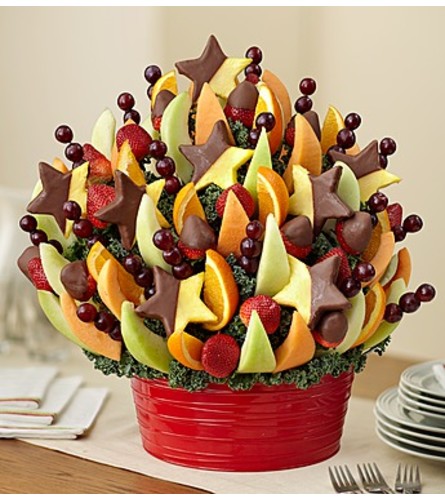 's Perfect Bouquet
Party Pleaser™
---
Description
---
It's party time—get everyone's mouth watering with this great big arrangement of fresh and tasty fruit! Displayed in a bright red reusable tin, our crowd-pleasing creation is loaded with dipped star-shaped pineapples, strawberries, melon and more sweet surprises to satisfy all those hungry guests. Fresh fruit arrangement of delicious dipped strawberries; dipped and half-dipped star-shaped pineapples; honeydew & cantaloupe wedges; orange wedges; strawberries and grapes skewers with a lettuce and kale base.
Allergy Warning: Fruit Bouquets products may contain peanuts and/or tree nuts. We recommend that you take the necessary precautions based on any related allergies.
Product ID 138120M
Approximately 16"H x 16"D
What People Are Saying
---
Artelia
November 02, 2021
It was sent to my sister and she loved it!!
Danielle
October 30, 2021
I needed a corsage and boutonnière for a formal event and they were able to fulfill my order same day! They even worked with me on the delivery as I was still running around prepping. I'm def glad I found them and if I need flowers next time I'm in town, I know exactly where to go!
Yes, my friend loved the flowers. They looked just liked that arrangement online.
Reviews Sourced from Lovingly
You May Also Like
---