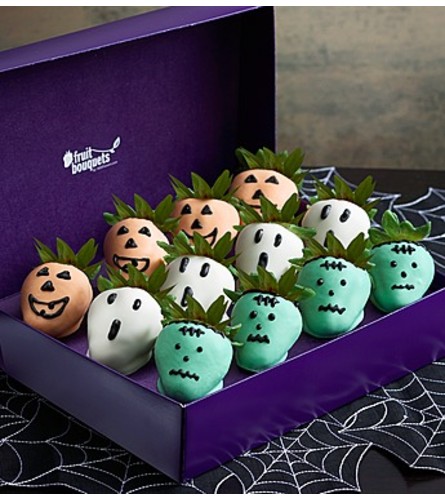 's Perfect Bouquet
Monster Berries™
---
Description
---
Turn your Halloween party into the ultimate monster bash! Decorated to look like ghosts, jack-o-lanterns and Frankenstein, our delicious chocolaty-dipped strawberries are sweet enough to make every ghoul and goblin smile. 12 delicious strawberries, dipped and decorated as ghosts, jack-o-lanterns and Frankenstein.
Allergy Warning: Fruit Bouquets products may contain peanuts and/or tree nuts. We recommend that you take the necessary precautions based on any related allergies.
Product ID 107961
Approximately
What People Are Saying
---
Wonderful and pleasent people thanks
It was a birthday gift for my Aunt, she was so happy. Thank you!
Beautiful flowers and friendly, excellent customer service!
Reviews Sourced from Lovingly
You May Also Like
---