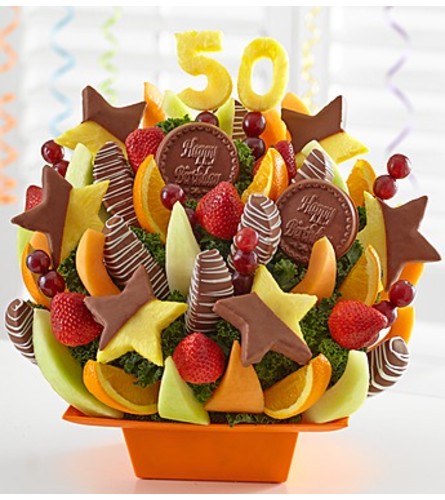 's Perfect Bouquet
Milestone Birthday Bash™ - 50
---
Description
---
Make their big day extra sweet! Our mouthwatering birthday arrangement features pineapple slices shaped into your recipient's specific age—flirty "30", fun at "40" or nifty "50." Paired with half dipped, star-shaped pineapples, dipped & drizzled apple wedges, two chocolate "Happy Birthday" pops and more, this festive treat is the perfect way to commemorate their milestone celebration. Allergy Warning: Fruit Bouquets products may contain peanuts and/or tree nuts. We recommend that you take the necessary precautions based on any related allergies.
Product ID 138117-FY
Approximately
What People Are Saying
---
fast., but I ordered something and they delivered something totally different.
I was unabled to attend my families funeral that was out of town for me. I went online and selected a floral arrangement through Axelrod Flowers. They delivered on time and the family loved it
Reviews Sourced from Lovingly
You May Also Like
---