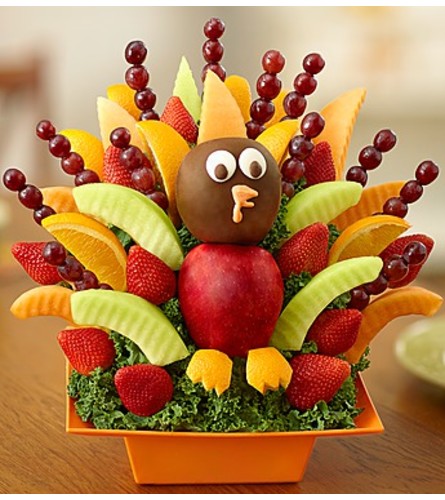 's Perfect Bouquet
It's Turkey Time™
---
Description
---
This Thanksgiving, finish the feast with a fun & festive treat. Our unique fruit creation is designed to look just like a plump, juicy turkey. Complete with two crisp apples for the "head" and "body" and an assortment of juicy melon, strawberries, oranges and grapes for "feathers," this delicious dessert is guaranteed to get gobbled up!
Allergy Warning: Fruit Bouquets products may contain peanuts and/or tree nuts. We recommend that you take the necessary precautions based on any related allergies.
Product ID 107965
Approximately 11"H x 12"D
What People Are Saying
---
I received an email that my delivery was completed and there was no delivery. I paid for a service and didn't receive anything. The flowers were for my mother since my father just passed. I'm disappointed and hopefully, I can at least get a refund.
Flowers were gorgeous and the special instructions were followed to the T .. THANK YOU SO MUCH
The flowers where great awesome job and quick delivery
Reviews Sourced from Lovingly
You May Also Like
---